Eileen Chong
Rainforest (2018)
Eileen Chong's fourth poetry collection is divided into four sections named after the four points of the compass: East, South, West, North.
Each of those four simple words carries a rich burden of meaning. For a poet who has come from the East – Singapore – to make her life here in the West – Sydney – the opportunity to embrace these metonymic depths of place, culture and feeling is one to be cherished.
Eileen Chong's wide, devoted readership will be impatient to add this new collection to their library.
  Rainforest was launched at the Stanley Street Gallery by Felicity Plunkett on Sat 3rd May 2018
Eileen Chong. Rainforest.
Paperback. 198 x 128 mm. Full colour cover.
ISBN 978-1-922080-86-8. 100 pages.
Painting Red Orchids (2016)
Eileen Chong's third collection continues her exploration of the contemplative and the personal within subtly shifting contexts of food, love, history and culture.  Lovers of her poetry will find much that is familiar and much that is new.   Over the three volumes of work represented on this page the reader can map a transition from a precocious apprenticeship to a mature voice, through moments of light and happiness mixed with hints of grief and foreboding.
As always her technical confidence and linguistic sophistication allow her to offer poems which appear simple on the surface, transparent enough to appreciate at a first reading and yet which contain depths and resonances which repay repeated attention and thought.  Through this combination of beauty and depth, Eileen Chong commands a wide and devoted following.
Painting Red Orchids was launched by Anna Kerdijk-Nicholson at Gleebooks in Sydney on Saturday 16th April 2016.  The launch remarks have been published at the Rochford Street Review.
Painting Red Orchids
Eileen Chong. Painting Red Orchids
B Format Paperback. ISBN 978-1-922080-66-0
72 pp. Full colour cover with French flaps.
Peony (2014)
Peony  is Eileen Chong's first full length collection of poetry.  It builds on the success of her poetry pamphlet Burning Rice, which came to national attention through the Prime Minister's Literary Award for Poetry short list in 2012.
Peony continues to explore the themes of cross-cultural experience, Chinese history – in particular the often untold history of Chinese women – and life and love in contemporary Australia. Pe
Peony was launched by Martin Langford at the Tilbury Hotel in Woolloomooloo on Sunday 30th March 2014 at 3pm.  The launch remarks have been published at the Rochford Street Review.
Three Poems from Peony
What the poets say
…the act of entering a new land is like stepping onto a tightrope of the imagination, in which neither past nor present has been deleted – because good imaginations pay their respects wherever it needs to be paid. These poems, it seems to me, walk such a tightrope. On the one hand, there are the memories of Singapore, of family – and on the other, poems of the new life – of preparing food with friends, of Europe and of love.
Martin Langford

"A poem is a heavy thing." Displacement, attachment, sweat, warmth and food, communion, aloneness, disquiet and longing – these poems coax shadows out of dark recesses, "layered like memory, like grief." Their strength lies not in their settings but in their familiarity with the human spirit, "at our true selves, so far, yet so close to home."
Rhyll McMaster

In Peony, with even more impressive artistry than in her debut collection, Burning Rice, Eileen Chong conjures into words her finely detailed pictures of memory. With tact and precision and an eloquent simplicity of speech she leads us into these distilled meditations as into the presence of actual people and places. The images rest like sunlight in a pool of clear water. 
Stephen Edgar

Peony is a book of many strengths — vivid images, supple lines, and a lyrical control of thought and feeling. I find myself marvelling at Chong's love poems — their seriousness, their alchemy and their truth. She is a poet who crosses cultures, from making rice dumplings to John Muir's awe for the natural world. Eileen Chong is also a poet of the modern city, capturing the irresistible attractions of urban life. Enjoy this astute and intimate poetry.
Andy Kissane
Burning Rice (2012)   
2nd edition
These poems were written while Eileen Chong was an Australian Poetry Fellow in 2011–2012, mentored by Anthony Lawrence.   The book was edited by Judith Beveridge, who taught Eileen Chong poetry in a higher degree program at the University of Sydney
In 2012 Burning Rice was highly commended for the Anne Elder Award for a first collection of poetry published in Australia.  In June 2013 it was shortlisted for the Prime Minster's Literary Award for poetry.
The first edition of Burning Rice was published by Australian Poetry in 2012 as part of its New Voices series and sold out in record time.  Pitt Street Poetry is proud to issue the second edition of this popular collection in a convenient pocket paperback format.
Eileen Chong: Burning Rice (paperback)
Eileen Chong's first poetry collection has now been reprinted by Pitt Street Poetry in a convenient pocket paperback format.
Three Poems from Burning Rice
What the poets say
The colours, scents, tastes and textures of the variousness of generations are woven seamlessly into these poems.  Eileen Chong creates compelling narratives that offer insights into love and loss, tradition and compassion. Her true gift is the ability to define, through memory and imagination, an almost tactile sense of place.
Anthony Lawrence

The poems in Burning Rice pull you in with their sumptuous images and seductive memories. Eileen Chong's poetry is a gift of the interconnection of past and present, the personal and the communal.   She has an astute ability to let objects and events assume emblematic implication, and she can incite the imagination through her remarkable ability to find the ore seams in everyday experience.
Judith Beveridge
Prime Minister's Award citation

At the heart of Burning Rice are delicately and meticulously crafted meditations on the complex web of attachments, loss and longing, so rich with imagery and narrative that they transcend the poet's own ethnic, cultural and regional background. Here are portraits and stories rendered with snapshot clarity and compression, revealing a hard-won integration of heart, mind and soul. 
Kim Cheng Boey
Mascara Literary Review 2012
About the Author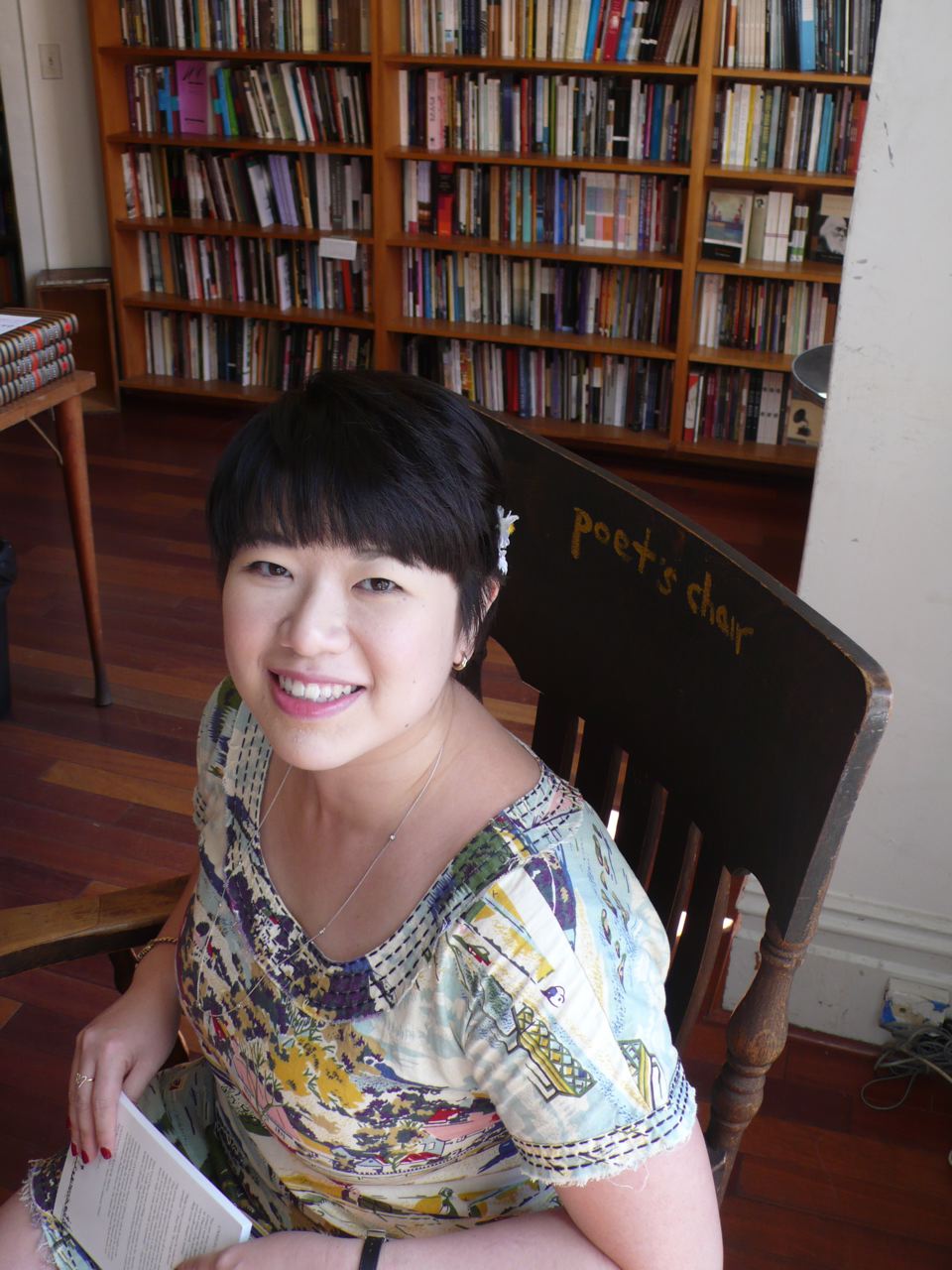 Eileen Chong was born in Singapore and grew up speaking English, Mandarin and Hokkien. She studied English language and literature at the National Institute of Education in Singapore and taught for three years in Singapore before moving to Sydney in 2007. She has a Master of Letters from the University of Sydney.
You can read more about Eileen Chong at her website and at her Wikipedia page.
Video Reading
For The Red Room Company October 2010