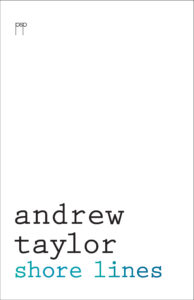 Shore Lines (paperback)
Paperback B format 128 x 198 mm. 108 pages. Full colour cover.
ISBN 978-1-922776-06-8.
Central to Andrew Taylor's Shore Lines is a sequence of poems written during the bushfire season of 2019 and the subsequent Covid pandemic. During a period of national trauma, the poems find consolation in the powerful regenerative energy of the natural world. The setting of the beach suburb of Coogee reflects an ongoing interest in Australia's coastline, which is also a central image in a number of poems that explore the poet's childhood and family life. Several poems are obituaries for those dear to him, and others explore elements of personal and family history, including the consequences of his ancestors' role as pioneers in the early settlement of Victoria. Many poems reflect an interest in natural phenomena such as landscape, the weather and, particularly, birds and, in the ocean, the whales that traverse the NSW and Victorian coast.