Mark Tredinnick. Bluewren Cantos (paperback)
ISBN 978-1-922080-32-5. 154 pages. 198 x 198mm.
MARK TREDINNICK   BLUEWREN CANTOS
Pitt Street Poetry is proud to welcome Mark Tredinnick to our imprint with his second poetry collection Bluewren Cantos, launched in Sydney on Friday 20th December 2013.
A big book physically – 154 pages – designed in a square format to accommodate the poet's distinctive use of line length.   And a big book poetically, a survey of his work over the past five years, clustered around two ideas: nature near at hand, and the daily music of things.
Bluewren Cantos includes the award-winning poems 'The Wombat Vedas' (Newcastle Prize 2011) and 'Margaret River Sestets' (Cardiff International Poetry Prize 2012).  

'This is a bold, big-thinking poetry, in which ancient themes (especially the theme of our human relationship with landscape) are re-cast and re-kindled.'   Andrew Motion
'In virtuosic syntax and with breathtaking fluency, he makes the landscape flame and sing.  And then there is the sheer specific beauty of what's displayed and contemplated in his work.'  Sinéad Morrissey
'One of our great poets of place — not just of geographic place, but of the spiritual and moral landscapes as well.'  Judith Beveridge
'Tredinnick has a tenderly erotic way of taking things.  Every poem is a love poem.'  Philip Gross
 Mark Tredinnick Fire Diary (2nd edition)
'Mark Tredinnick's much-anticipated first collection of poetry, Fire Diary, is an examination of place and how to respond to it. The title provides a clue to the form of the book; many poems chart the daily exigencies of living within nature. More importantly, the collection explores the moods and aspirations of the self, of a person grappling with meaning in life, and with language itself. In the title poem, Tredinnick argues, 'Fire is the madness / in us all', a Heraclitan take on the element; fire becomes the metaphor for creativity, passion, and contradiction. Yet Tredinnick's motives are not wholly earnest. His intent is often playful and suggestive, as when he says in 'Song of (Someone Like) My Self', a riposte to Whitman's grandiose 'Song of Myself': 'I'm just a small metaphor / for the world hereabouts.' Informality is a key element in Tredinnick's use of language; 'hereabouts' strikes just the right note in its implication of place that is both personal and general enough to be any place.'        (Brendan Ryan, Australian Book Review)
About the author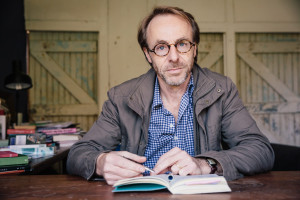 Mark Tredinnick is a poet, nature writer and essayist. He lives and writes along the Wingecarribee River, southwest of Sydney, and travels widely as a poet and teacher. He was the winner in 2011 of the Montreal Poetry Prize and in 2012 of the Cardiff Poetry Prize. He has also won two Premier's literary awards, the Blake and the Newcastle Poetry Prizes, and the Calibre Essay Prize. In 2010 he was short listed for the Prime Minister's Literary Prize for non-fiction. Mark's third poetry collection Body Copy will be published in 2014 by Pitt Street Poetry; he is at work on a fourth collection of poems and a memoir, Reading Slowly at the End of Time.
'I've rarely written a poem into which a bird did not want to fly, and there are equally few into which those dear to me did not want to wander.  There are many such poems in Bluewren Cantos.  But where a poem starts, and with whom, is much less than everything it wants to say.  One life stands for all such lives; one love for all such loves; one time for all such times; one place for all such places.  "I have made a tribe of my true affections," Stanley Kunitz wrote in 'Layers'.  Here are some of my tribe: birds, rivers, children, moments, loves.'
Books by Mark Tredinnick
Poetry
The Road South (CD) River Road 2008
Fire Diary  first edition: Puncher & Wattmann 2010   second edition: Pitt Street Poetry 2014
The Lyrebird (Wagtail 106) Picaro 2011
Australian Love Poems 2013 (editor) Inkerman & Blunt 2013
Bluewren Cantos Pitt Street Poetry 2013
Body Copy (forthcoming from Pitt Street Poetry in 2014)
Prose
A Place on Earth (editor) UNSW/ U Nebraska 2003/ 04
The Land's Wild Music Trinity 2005
The Blue Plateau UNSW/ Milkweed 2009
Australia's Wild Weather NLA November 2011
Books on Writing
The Little Red Writing Book UNSW 2006
The Little Green Grammar Book UNSW 2008
Writing Well: the Essential Guide Cambridge 2008
The Little Black Book of Business Writing (with Geoff Whyte) UNSW 2010