Jenny Blackford
 The Loyalty of Chickens

Jenny Blackford's first full length poetry collection continues the theme of household animals and their obligations, expanding the universe to include history and geography, family and mythology – overlaid with the knowing wry humour which is her trademark.
With selected barnyard illustrations by Gwynne McGinley.
Suitable for readers 11 plus.
Jenny Blackford. The Loyalty of Chickens.
ISBN 978-1-922080-74-5.
B format paperback 198 x 128 mm
90 pages. Illustrated.
The Duties of a Cat
Pitt Street Poetry's poetry pamphlet series commenced in May 2012 with the publication of Etruscan Miniatures by London-based poet Tim Cumming. The international success of that work, illustrated with watercolours by the poet, led us to search for additional titles.
The result is The Duties of a Cat – twelve poems by Novocastrian Jenny Blackford, best known for her speculative fiction and historical works, but also a regular contributor of poetry to journals such as Quadrant, Westerly and The Pedestal Magazine.
These poems celebrate the essential nature of the cat, friend and alien, following in a long and proud tradition of feline verse from a distinguished lineage of poets:
We who have known loneliness
sigh for the beast. The addled creature lurks,
dark-scraggled, out of our cajoling reach.
Printed on thick creamy paper, these attractive pamphlets will make an ideal gift for the cat or cat lover in your life.
Jenny Blackford: The Duties of a Cat (pamphlet)
ISBN 978-1-922080-24-0. 160 x 110 mm
Poetry pamphlet with French flaps and full colour illustrations.
ABOUT THE AUTHOR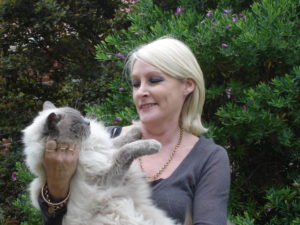 Jenny Blackford won the medal in Classics at the University of Newcastle, branching to a career in computer networking in Melbourne.  These days she is back in Newcastle and writing full time.  Her short stories are published widely: by Random House, Cosmos magazine and in anthologies such as HarperCollins Dreaming Again.
An historical novel The Priestess and the Slave (Hadley Rille Books) appeared in 2009. Her poems are in Westerly, Quadrant, Australian Poetry Journal, The Pedestal Magazine, Going Down Swinging and Strange Horizons.
ABOUT THE ARTISTS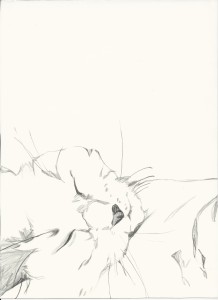 Michael Robson is a Sydney-based artist who has previously partnered with Kevin Hart in a Red Room Company sponsored poetry event at St James Church in Sydney.  His drawings offer a playful response to the poems, dabbing and teasing at their meanings with a delicacy of line and a wicked imagination.
Gwynne McGinley aka Gwyneth Jones has undertaken many freelance illustrations and commissions, has exhibited and sold with art groups and at local markets. Her favourite media are ink pen and colour pencil, with a dash of gouache.  Her drawings have been appreciated and bought by many for their nostalgic feel and whimsy, as well as marking important occasions and representation of peoples lives.