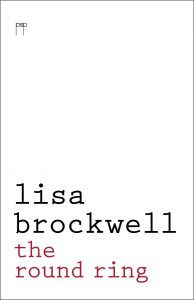 The Round Ring (paperback)
Paperback B format 128 x 198 mm. 64 pages. Full colour cover.
ISBN 978-1-922080-98-1.
Lisa Brockwell's debut poetry collection Earth Girls (PSP 2016) enjoyed general admiration and acclaim. 'Celebrate the arrival of a vital Australian voice,' wrote Dan Ryder in Plumwood Mountain.
This second collection The Round Ring builds on the strong foundations of that initial foray, buttressed by growing recognition and respect for that 'vital voice' in national and international poetry spaces.
Riffing on Emily Wilson's recent translation of The Odyssey, Brockwell shares recently discovered postcards between a roving Penelope and a stay-at-home Odysseus. Her own restless travels take her to Doha, Houston, Bedford Square always with a wry, dry eye on the human and political dimensions of the landscape. Her gaze extends to family, to art, and as in the multilayered title poem, to our animal familiars and the perspectives they offer.
Why be a workhorse when you could be a top-shelf
Arab mare singing country classics at daybreak,
galloping through traffic trailing stallions, perky
agents, blue ribbons and melting moments home-baked
in someone else's kitchen?