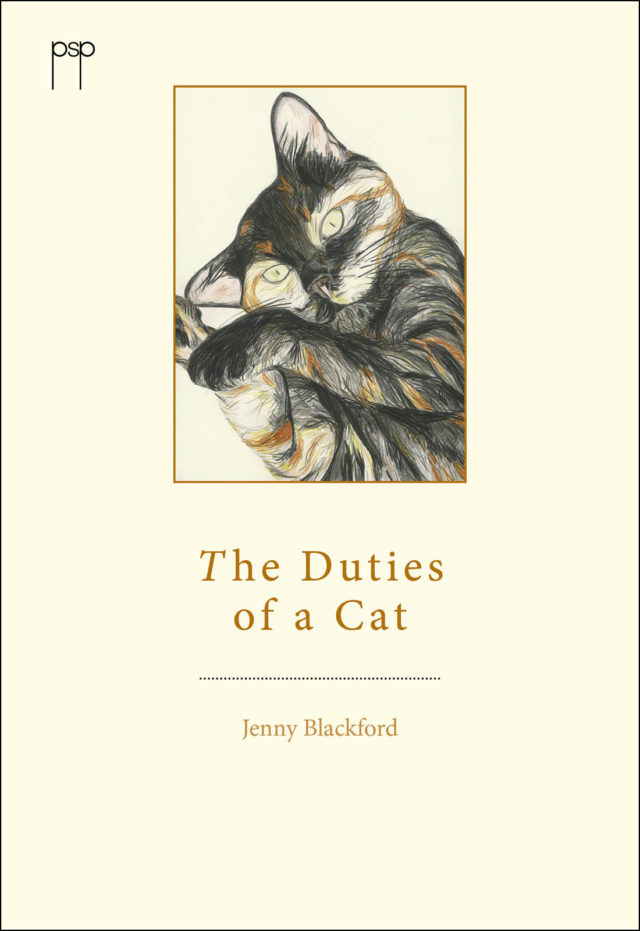 The Duties of a Cat (illustrated poetry pamphlet)
Illustrated poetry pamphlet with French Flaps. 110 x 160 mm. 28 pages. Full colour cover.
ISBN 978-1-922080-24-0.
Illustrations by Michael Robson.
Pitt Street Poetry's poetry pamphlet series commenced in May 2012 with the publication of Etruscan Miniatures by London-based poet Tim Cumming. The international success of that work, illustrated with watercolours by the poet, led us to search for additional titles.
The result is The Duties of a Cat – twelve poems by Novocastrian Jenny Blackford, best known for her young adult and fantasy works, but also a regular contributor of poetry to journals such as Quadrant, Westerly and The Pedestal Magazine.
These poems celebrate the essential nature of the cat, friend and alien, following in a long and proud tradition of feline verse from a distinguished lineage of poets:
   We who have known loneliness
   sigh for the beast. The addled creature lurks,
   dark-scraggled, out of our cajoling reach.
Printed on thick creamy paper and encased in a cellophane wrapper, these attractive pamphlets will make an ideal Christmas gift, to post through the mail or leave under the tree near the cat's basket.