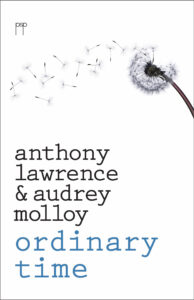 Ordinary Time (paperback)
Paperback B format 128 x 198 mm. 90 pages. Full colour cover.
ISBN 978-1-922080-13-4.
"I don't know if I can tell you the truth. What if truth were prismatic, everyone looking through fruit-coloured panes?"
So begins a conversation between two people who have never met. Join Anthony Lawrence and Audrey Molloy on a lyrical journey through time and space, exploring themes of impermanence, distance, extinction, friendship and love, through the natural and imagined landscapes of time travel.
Reviews
'In Ordinary Time, two poets explore what it means to take on 'the shape of curiosity', the 'prismatic' truth of things. Then they allow us to eavesdrop. Delightful. Written in a form that evokes unsteady pillars but also the sudden sight of a murmuration, these poems range far but always bring us home.'
Helen Mort, author of The Illustrated Woman (Chatto & Windus, 2022, shortlisted for the 2022 Forward Prize for Best Collection)