Benedict Andrews   Lens Flare
Launched by John Knight at the Young Vic Theatre, London on Friday 14th June
The peripatetic life of an international theatre director offers plenty of down time a long way from home.  Benedict Andrews devotes this more often than not to his poetry, which has been unpublished up until now.  Poems about the theatre, about his new home in Iceland and, inevitably, a long suite of louche meditations on hotel rooms.  You will find his first collection Lens Flare a memorable read.
Benedict Andrews. Lens Flare
ISBN 978-1-922080-34-9. B format paperback 128 x 198 mm with French flaps
'Benedict Andrews is one of the original imaginations of Australian theatre. For ten years now he has been applying his complex startling vision to some of our dramatic literature, as well as illuminating new writing, both nationally and internationally. His work is marked by the intense and fragile beauty of its imagery and the sense of deep metaphor lying beneath the narrative surface. In an artform that needs to be both popular and pragmatic, Benedict manages to remain that rare thing: a poet.'
Review
Lens Flare is a collection of poems – the first, as far as I can tell – written by a theatre director more accustomed to staging Chekhov in New York or Verdi in Denmark than to publishing poems in Australian journals. I opened the book expecting to find that slightly off-key poetry written by accomplished practitioners of an allied practice – this could also be song-writing, fiction, even painting – whose singular depth of involvement is unquestioned, but is not in poetry.Instead I found this . . . the poems are precise and unforced. His poetry is serious (but seldom tonally heavy) and cleanly crafted – even crisp in its linguistic texture, with hardly a word or line that feels unnecessary . . .
. . . I suspect the dramatist in Andrews enjoys this heightening of voice across shifting entrances (and exits) while maintaining a mild narrative. Most poets do. Good. Andrews may be much in-demand as a stage director but he is also an excellent poet, and his skills might embarrass many poets who have spent decades doing little else.
Philip Salom  Cordite Poetry Review  13th March 2015
About the author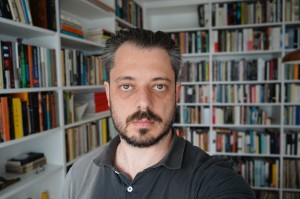 Benedict Andrews is an Australian theatre and opera director, now resident in Iceland. His directing work has won and been nominated for various awards including Olivier Awards, London Critics' Circle Awards, Iceland's Gríman Awards and Australia's Helpmann Awards. Benedict's adaptations for the stage include The Maids (with Andrew Upton), The War of the Roses (with Tom Wright), Life is a Dream (with Beatrix Christian), and his own versions of Chekhov's The Seagull and Three Sisters. His play Every Breath has been translated into German and Portuguese.
Benedict Andrews directed A Streetcar Named Desire at the Young Vic theatre, London, in July 2014 and La Bohème at the Dutch National Opera in December 2014.  His first feature film Blackbird will commence shooting in the UK in summer 2015
Read more at www.benedictandrews.com
*Neil Armfield's comment is excerpted from a citation for the 2005 Sidney Myer Performing Arts Award.